Herbal Liquorice Sheets
900g
Cut your own straps! Rolled liquorice sheets flavoured with the popular Chinese herbal extract Glycyrrhiza Glabra. This has the same medicinal and nutritional properties as Herbal Liquorice Bites but a slightly more intense flavour.
Chocolate Liquorice Log:
700g
Another "best seller". Similar to the Rasso Choco except that the chocolate centre is wrapped in New Generation's soft-chew herbal liquorice. If you like liquorice, you will enjoy these. Like the rasso-choco keep it sealed in the fridge. Tip: Cut into short lengths and enjoy with vanilla ice-cream.
Herbal Liquorice Logs:
700g
Liquorice logs flavoured this time with something rather different: a popular Chinese herbal extract - Glycyrrhiza Glabra. GG runs a close-second to the well-known extract, Ginseng, used in Chinese herbal medicine. It's better to eat this one little and often rather than in large quantities. An unusual, interesting and tasty gift - a mouthful to remember.
Irish Moss
700g
Not truly a liquorice but a fresh soft jube impregnated with aniseed and covered with colourful hundreds and thousands. Often fought over in a pottle of Allsorts. This item has a long history in confectionery.
Allsorts MiniBag
180g
These versatile little bags are great for fund-raising (schools, clubs), for business promotions and/or give-aways to good customers or to encourage repeat business. For schools & clubs the minimum order is 500 bags; for small businesses 100 bags. The goods have a shelf life of 12 months. Contact your area supplier as volumes will dictate prices and consequently margins.
Peaches and Cream
700g
Slightly piquant, but very pleasant on the palate, this tasty little number is sure to please. Flavoured with peach essence and mixed with artificial cream to keep unsaturated fats low, it tastes, as you might expect, of peaches and cream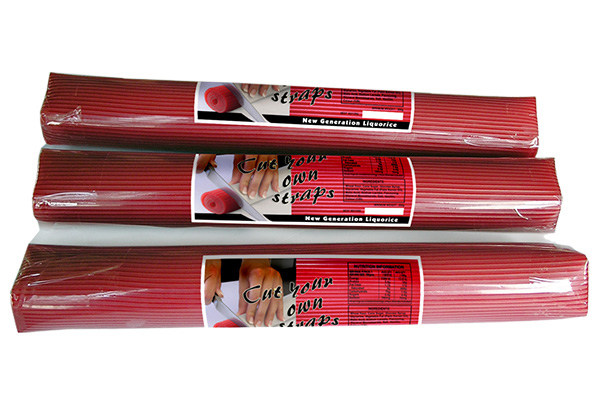 Raspberry Sheets
500g
Cut your own straps from these tasty sheets. This is created from an extrusion of the raspberry log, but has a more intense flavour
Mini Pottles:
200-250g
Popular for give-aways and promotions
Fill it with just one liquorice variety or any assortment from within the product range. Mini pottles are popular in the business community as small give-away gifts of appreciation. A great value-for-money option.The minimum order is 36 pottles, going up in increments of 6 pottles eg. 42, 48.
Raspberry Chocolate
700g
Our ever-popular raspberry-flavoured roll wrapped around crunchy compound chocolate. The cooler it is kept, the crunchier the chocolate becomes. If you freeze it, just suck it until it becomes soft enough to eat. A tasty combination of flavours and textures. Keep the pottle sealed. A favourite with the younger set.
Your own labels
Giving a special gift to friends, employees? You can get a label designed to say exactly what you want or carry your company logo


---
Probably one of my biggest mistakes in life was to start giving your liquorice away, as each year customers start as early as August reminding me of "that special gift". The product is the most successful I have had in 25 years of giving away Xmas cheer.